Mobile Informer Architecture
Your IT department does not need any more middleware servers or software to maintain. That's why Mobile Informer sits inside of Maximo as a Maximo application.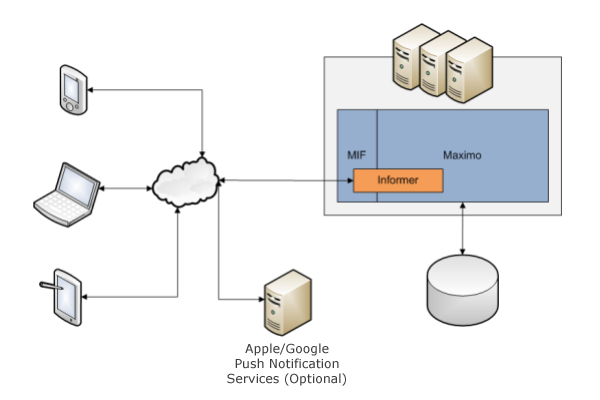 Mobile Informer simply extends Maximo's own functionality and operates within its framework. It is built entirely within Maximo itself, using standard IBM Maximo development practices, and communicating with Maximo business objects. Maximo then manages all data transactions and system integrity as normal. No communication occurs directly with the database.

Mobile Informer uses a push-based architecture to communicate with devices. All differences are managed within the application server, which allows large numbers of records to be synchronized very quickly.

Mobile Informer's architecture supports HTTP and HTTPS communication leveraging MIF web services and full, seamless off-line functionality. Informer supports the standard IBM clustering and failover configuration.