Since our founding in 1997, Segue Technologies™ has helped dozens of federal, commercial, and non-profit organizations solve their IT challenges and enhance their mission-critical business systems. We provide custom software applications, solve data management problems, and support the evolution of the mobile workforce.
___________________________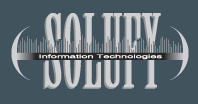 Solufy is a corporation founded in 2003, with its head office in Ottawa, Ontario, Canada. Our company focuses on delivering quality software solutions to augment the functionality of IBM Maximo®. The company currently has over 70 customers worldwide, and has known great success in the air navigation services sector, pulp and paper industry, oil and gas industry, manufacturing industry, defense, utilities, the education sector, and other industry sectors as well.