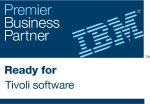 If you are a savvy Maximo customer, I'm sure you've seen it -- that little mark in the corner of business cards stating that a product is Ready for Tivoli products. But do you know what it means? How does IBM deem that a product is Ready for Tivoli and therefore eligible to get "the mark?"
A Ready for Tivoli solution is one that is integrated with IBM Tivoli Software, to address customer needs in asset management, data transformation, network management, performance management, process automation, risk compliance, security, service delivery, service availability, service assurance, and storage management.
So again, you might ask, what does this mean for me or for my business? Simply put, a Ready for Tivoli solution is one that has been validated by the technical team at IBM. There are several steps that a business partner must complete to get the validation
1) They must complete an integration/requirements document that explains in detail how their product integrates with IBM products (for instance, Maximo Asset Management).
2) After completion of the requirements document, if needed, the business partner has access to the product experts to assist with any integration.
3) Once the integration is complete, all the product required documentation is sent to IBM and a meeting is arranged where the business partner shows their product to the IBM product and technical teams -- showcasing the integration.
Only after the IBM technical teams approves the documentation and the business partner passes the interview, is the mark made available to the business partner and the product is available through IBM's Integrated Service Management (ISM) Library -- which always has the latest listings of Ready for Tivoli products.
One last point to make: the mark is tied to the product not the business partner and validation of the product is required annually.
Interloc and Ready for Tivoli products
Interloc is pleased to be able to say that we have three products that have earned the Ready for Tivoli mark and available in the ISM Library. These products are:
Capturx for Maximo
Capturx for Maximo provides a way for your business to instantly integrate ink data from paper forms into Maximo using digital ink pens. Read more about Capturx for Maximo or download the data sheet here.
Interloc Mailer
The Interloc Mailer product solution streamlines any work management decision making/ approval process or comprehensive workflow process for any set of predefined users of Maximo Asset Management or Maximo Industry Solutions. The Interloc Mailer product solution permits Maximo users to take any action typically only permitted from within a Maximo application or Maximo Industry Solution from within a simple email without having to go to a desktop and log into Maximo. Read more about the Mailer or download the data sheet here.
Mobile Informer
The award winning Mobile Informer takes mobility for Maximo to the next level. Native within Maximo, Mobile Informer is deployed from within Maximo on the Maximo server thus allowing for virtualization, clustering and ease of hosting due to the elimination of the need for middleware. Interloc's perspective on Maximo mobility is that the most successful mobile applications align with the clients' field workforce business process. We use proven methodology to understand the mobile users' work processes and deliver a mobile application that directly supports and enhances these processes. In other words, to do the simplest thing possible to enable your field workforce and your Maximo Administrator. Read more about Mobile Informer or download the data sheet here.
If you are going to be at Pulse, make sure you stop by booth S221 to see our Ready for Tivoli product and tool demos. Or click on the button below and join us for a one on one consulting session at Pulse. We look forward to seeing you there!