Have you ever sat in Maximo User Group meeting and heard a vendor say they held IBM AAA Accreditation? Do you know what that Enterprise Asset Management accreditation really means to you and your business? This post breaks it down.
IBM AAA Accreditation is the highest level of accreditation that a Maximo/Tivoli partner can achieve and there are only a handful of partners that have achieved this significant recognition. To earn IBM AAA accreditation, the partner must have:
3 Certified Deployment Professionals in a specific product

2 Certified Solution Advisors in a solution area

1 Advanced Deployment Certification in a solution area
Let me explain what those titles mean to you:
An IBM Certified Solution Advisor - Maximo Enterprise Asset Management professional has demonstrated the knowledge to influence direction for IBM Maximo Enterprise Asset Management by educating and influencing key decision makers.
An IBM Certified Deployment Professional - Maximo Asset Management technical professional is proficient in configuring an IBM Maximo Asset Management -- with limited assistance from peers, product documentation, and support resources.
An IBM Certified Advanced Deployment Certification professional has demonstrated a higher level of knowledge and skill both in breadth and in depth in the IBM Tivoli Asset Management solutions area.
According to this IBM website, "Consultants who go the extra mile to achieve AAA accreditation, therefore, will tend to stand out—becoming the gold standard for technical and business consultation... their customers, too, will benefit from an exceptional level of expertise across both the business and technological dimensions via the best possible utilization of the IBM Tivoli solutions that map most directly to their needs."
Consultants who take this step to become AAA certified have the stellar skills, both technical and functional, needed to move your business forward -- providing you the fastest ROI on your IBM Maximo Enterprise Asset Management Software investment. Check out all the technically accredited IBM Business Partners here.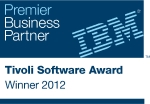 As an IBM Premier Business Partner and winner of two IBM 2012 Tivoli Awards, Interloc Solutions is pleased to say that we hold AAA Technical Accreditation for our Maximo consulting services in both the US and Canada.
Learn how we can put our expertise to work for your business to help you achieve rapid and continual ROI with Maximo.