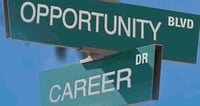 Interloc is growing our team and is looking for Maximo Rockstars! Check out 5 reasons why Interloc might be your new home:
1) You know that PSDI was the predecessor to MRO and MRO was acquired by IBM
You have been in the Maximo world long enough to know the history of Maximo. You have technical and functional expertise and can take on any aspect of a Maximo project, including Maximo implementations, Maximo integrations, and Maximo upgrades. You enjoy working with new technologies and welcome a challenging environment. Maximo certification? If you answered yes, you get bonus points.
2) You enjoy working with a team
When you join Interloc, you are an instant member of the Interloc family. You have easy access to 100's of combined years of Maximo experience. We hire not only for expertise but also for culture. Our consultants share knowledge, they don't hoard it. Your customer is our customer and we are obssessive about delighting our customers.
3) You dream in XML, Java, or SQL
You have development experience in any combination of Interface writing, Java/J2EE, Visual Basic, .Net, C++ XML, and PL SQL. You've worked with both Oracle 9i or later and WebSphere. Writing reports in Actuate, SQR or Crystal makes you happy.
4) You are a road warrior
With some of the largest transportation, oil and gas, and airports around, Interloc consultants can be found from Calgary, AB to Houston to Florida, and yes even in India. You welcome the opportunity to travel and have clearance to work in Calgary, AB, CA. Interloc is an international company with offices in the US, Canada and India. Our projects span the globe and we love consultants who can too!
5) You can translate between technical and business
You understand Maximo is a tool to satisfy business requirements. You can take those business requirements and translate them into technical specifications. You possess the technical expertise and business acumen, coupled with a keen sense of customer service, that drives every Maximo project to success.
Perks, you ask? Why yes, Interloc does provide a nice benefits package. We offer competitive salary packages, ample PTO and generous health benefits. If you are a Maximo Rockstar, we invite you to check out our careers page or contact our recruiter, Nancy Palmer, today!