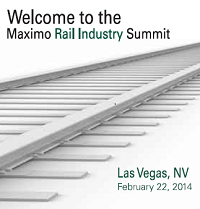 The 4th annual Maximo Rail Industry Summit (MRIS), the premier event for Maximo users in railroad, railway and rail-related transportation organizations, will take place Feb 22, adjacent to the IBM Pulse event.
Led by Bill Broughton, MRIS Chairman, the Rail Summit is an essential event for anyone focused on or interested in the rail industry's use of Maximo. The Summit brings together representatives of international railroad or railway organizations who share the common goal of using Maximo to achieve optimal operational and maintenance practices. The Summit offers its greatest value by providing an opportunity for rail industry experts to exchange knowledge, discuss common business interests and issues, and build releationships. Gain insight in key areas such as infrastructure and rolling stock, and the guiding principles of Maximo implementations. The 2014 Summit will focus on the core elements of Enterprise Asset Management (EAM) to ensure that operationally, the service is running as well as it can be. Session topics are sure to include:
Maximo Asset Configuration Manager (ACM) to manage the train release process – to ensure 'fit for service'

Maximo Linear and Job Plans to dynamically plan resources over a changing linear distance

GIS round table discussion – an update on 2013's round table, to review the role of GIS in Maximo EAM implementations

A review of ISO 55000, enabling reliability through the use of standards

A discussion on planning and preparing for a very large rail EAM project in one of the world's largest cities

Panel discussion of EAM, GIS and Spatial – are all of these required to implement the complete picture of EAM?
With significant transportation industry expertise, coupled with AAA accreditation and a dedication to Maximo, Interloc shares Bill's vision for the Summit and continues to be a primary partner in its realization, providing sponsorship, event management and logistics support.
If you are in the railroad industry and use Maximo, you cannot afford to miss the 4th Annual Maximo Rail Industry Summit. The Summit will be concentrated into a single day, Saturday February 22nd at the MGM Grand Hotel in Las Vegas NV, the day before the main IBM Pulse event is due to begin. As joint organizers of the Summit, Interloc sincerely believes that it will offer real value to your organization. To get your exclusive invitation to this event, complete the form below:
We hope to meet you there!