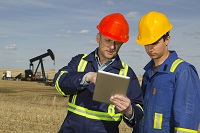 With the use of smart devices growing exponentially, it's understandable that taking Maximo mobile is a hot topic and can lead to:
Increased Productivity
Faster Return on Assets
Decreased Costs
The questions remains:
What is the best path for mobile Maximo solutions?
How do I gain user acceptance?
How do I get what my users want and my business needs?
Join the Tivoli User Community Webcast
Join Interloc Solutions, along with our client and co-presenter ATK Aerospace (ATK), on February 14 at 2pm EST for a webcast entitled "ATK Aerospace -The business benefits of mobilizing Maximo with the innovative Interloc Mobile Informer" presented by the Tivoli User Community (TUC).
ATK Aerospace is the world's top producer of solid rocket propulsion systems, and is a leading supplier of military and commercial aircraft structures. They have over 60 facilities in 21 states, Puerto Rico, and internationally, and are constantly working to meet and exceed the requirements of governmental, environmental, and safety regulations at each of their work sites.
During this webinar, Eddy Larson, Facilities and Maintenance Specialist with ATK, will share with you how ATK's implementation of the innovative Interloc Mobile Informer solution for Maximo yielded 100% user acceptance, a more than 20% increase in productivity gains, and increased safety. At the end of the webcast, Jason VenHuizen, Interloc's Vice President, Products and Technology, will spend a few minutes discussing Interloc's approach to deploying successful next generation mobility solutions for Maximo.
Join us on February 14 at 2 pm EST to learn:
ATK's insight into the immediate business benefits that award-winning Interloc Mobile Informer gained them
How any Work/Inventory Management or Maximo Industry Solution can be extended to the smart mobile device through use of Mobile Informer
A proven process for user buy-in/adoption from the start of a mobile project to rollout