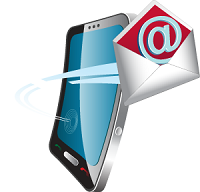 If you were at IBM Pulse 2012, you probably saw the award-winning services and products that Interloc Solutions has that can help your business not only get fast ROI during a Maximo implemntation but also to gain continual ROI from your Maximo software investment. You can read all about these innovative products here.
This post focuses on the Interloc Mailer and how it can help provide a path to a streamlined business process. A Ready for Tivoli product, the Interloc Mailer can provide a significant benefit to organizations with a remote workforce, and/or a workforce where intimate Maximo knowledge is neither desired nor practical.
Our case study for the Interloc Mailer is Amtrak. Amtrak is implementing the Interloc Mailer for Maximo with the intention of using it with constantly remote teams where system interaction must be minimized for safety and training reasons.
I was fortunate to catch up with Interloc's Director, Strategic Asset Management and the Project Manager at Amtrak, Greg Hoile, to learn about Amtrak's current implementation and future plans.
Stacey: Tell us about Amtrak.
Greg: The National Railroad Passenger Corporation, Amtrak, is a corporation striving to deliver a high quality, safe, on-time rail passenger service that exceeds customer expectations. Amtrak, in partnership with Interloc Solutions, is continuing to enhance its Maximo implementation to streamline business processes ensuring continual ROI for their enterprise assets.
Stacey: What specific challenges is Amtrak facing causing them to look outside the typical Maximo communications method?
Greg: Amtrak faces the same challenges as any corporation with a workforce that is geographically dispersed and that do not necessarily have a background, or comfort in using systems like Maximo or any computer system in their daily work. Their major considerations are simplicity of use, minimized training, ease of implementation, and significant flexibility to cater for future expansion.
The Interloc Mailer's capabilities go beyond standard Maximo function and provide a close fit to the way that Amtrak will need to interact with its user base. The implementation has started with a simple first step, but there are many current and future business needs that the Interloc Mailer meets:
Creating Mailer configurations to be triggered in real time based on a conditional event in Maximo
Applying further conditions to dynamically select the people to notify through their email inbox
Using templates to help the content of the notification to make sense – iterate through work order tasks, highlight those which have failed, and so on
Including standard actions for the person to click and for Maximo to immediately perform
Providing support for complex actions to be performed – complex multi-step processes can then also be performed by a single click
Activating or deactivate Mailer configurations as required
Allowing notifications to be disregarded should one person in a group respond
Switching on repeat notifications, if necessary
Providing security by uniquely identifying messages so that they cannot be hacked or duplicated. Security is provided by the user's email security
Stacey: How will the Interloc Mailer streamline Amtrak's business process?
Greg: The Interloc Mailer gives Amtrak users an easy way to interact and respond to Maximo. Even users who are not that familiar with Maximo will be able to interact with the system without needing to be experts. With a current user base consisting mostly of engineers, the Interloc Mailer provides them with a simple way to remotely respond to actions and update their actuals in the system directly from their email inbox, without needing to go into Maximo. Amtrak expects that the Interloc Mailer will enable more real-time updates from more users and will make the Maximo system more attractive to more users throughout the corporation.
Stacey: Describe how Amtrak expects to roll out the Interloc Mailer.
Greg: The Interloc Mailer is currently live in production at Amtrak, creating notifications of task-level events. With future implementations of the Interloc Mailer, Amtrak expects the following types of interactions to occur:
All users would be able to respond quickly to actions related to work orders or other Maximo business objects
Managers will be able to advance work orders to another status based on the work done by their gangs
All user types will receive notifications of important maintenance issues that require an immediate response
Stacey: Describe the install process in terms of length of time, difficulty, and integration?
Greg: The Interloc Mailer installs directly into a Maximo instance and as such can be performed in a very few hours at most by existing project resources. Depending on the version of Maximo that is being used, no other software is required.
Stacey: What has user acceptance been like?
Greg: The initial response has been very positive. The users themselves don't know that the Interloc Mailer is doing this for them, but they do know that it is making their work and ability to interact with Maximo much easier. The Amtrak management acceptance has been very positive and they are looking forward to a wider rollout of the Interloc Mailer.
Stacey: What is Amtrak saying about the Interloc Mailer?
Greg: Amtrak knew that they needed to streamline their approval process so that the Engineers could respond quicker to actions directly from their email without needing to be familiar with the internal workings of Maximo. The Interloc Mailer provides a unique way for them to accomplish this.
The expectation is that the enhanced capabilities of the Interloc Mailer will allow for other business situations to be modeled that require the forwarding of actions to remote users and their very simplified response. This, in turn, will help to reduce the training need, saving the corporation time, money and enhancing user perception of the system's value to them.
Stacey: Thanks Greg!
To learn more about the Interloc Mailer and how it can help your streamline your business processes, please click here to download the data sheet or to request a demo to find out how the Interloc Mailer can help your users.