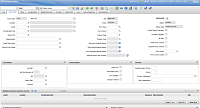 When implementing a CMMS/EAM system, such as IBM Maximo, you need to consider many functional, or business-related, variables. In my previous post, I talked about the importance of clearly tracking Labor Reporting and Timekeeping. In this post, I will discuss several strategies for Work Order Costs.
When implementing a CMMS, it is very easy to jump right into execution in order to "just go live." However, that thought process can very easily compromise the value of your data, resulting in potentially misleading analytical information. This post will discuss some items you should consider prior to implementation to ensure a good and useful Maximo implementation outcome.
The goal of every maintenance manager should be to insure that costs related to performing work are accurately tracked, entered, and accounted for within each work order record. IBM Maximo, as well as other modern and robust CMMS platforms, should be able to track and capture these resource expenditures at the work order level, both quantitatively (how many), and financially (cost).
"Pure" maintenance management focuses on only the assets. For "pure" asset management, the end goal is to optimize the return on your assets. Keeping these principles in mind, part of your implementation objectives should include efforts to minimize the variables that go into your work orders, and in this case, costs. Minimizing these variables means stabilizing (normalizing) costs that go into work orders as much as possible.
Consider such variables as cost of replacement parts and shipping and how they can disguise the true cost of a work order. These can influence work order costs and if they are not normalized can compromise the outcome.
Take caution if your implementation's goals appear to be a hybrid of "pure" maintenance management and accounting goals.
Do not confuse accounting, finance, timekeeping and payroll goals with those of an asset management system.
Download the rest of the paper to find out why the data that goes into your CMMS needs to be comparable data and why introducing wildly fluctuating prices, shipping, rebuilds, or other costs into your work orders, cloud your analytics, causing any decisions made with this sort of data are vulnerable to being poor decisions.