Over the past two weeks, the team at Interloc has been busily supporting the spring Maximo User Groups. Starting with the Facilities Management Maximo User Group on May 1 and ending with the Pacific Northwest Maximo User Group on May 13, Interloc is proud to be able to support this vibrant and growing commnity!
And what a great growing community it is. I had the pleasure of attending the Maximo Utility Working Group on May 9 in beautiful Charlotte, NC. For the second year in a row, attendance was at record levels. This year hitting a high of more than 300 attendees from more than 85 utilities.
The event started with a networking event, where I personally met a number of very bright, talented Maximo professionals from a number of utilities all looking for ways to maximize ROI of their enterprise assets, so they can better serve their utilities customers.
The next day started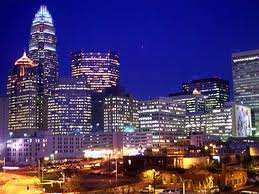 bright and early with general sessions hosted by Caryn Riggs, Vice President of EAM programs at Duke Energy. Duke Energy has implemented Maximo across multiple business units, including transmission, distribution, supply chain and fossil/hydro generation. Caryn shared lessons learned and key success factors for their more than 8000 users across 5 business units.
Moving on from Caryn's insightful presentation, IBM gave us insights into Maximo 7.5, including more robust supply chain features and enhanced work and asset management capabilities.
Additional general session topics included:
Setting up a Maximo governance board (LCRA and TVA)
Material planning for outages (Duke Energy)
Managing cost data and budget tracking (Southern Company)
integration with enterprise financial systems (Portland General Electric)
The afternoon breakout sessions were lively and well attended. Using a discussion-based format, members were actively engaged in sharing best practices and learning from each other.
One of my highlights was vendor night, where Interloc Solutions was one of 30 vendors who were all there to support the Maximo Utility Working Group and the Maximo Community.
We were able to showcase our new mobile product built

specifically for Maximo around your business and user needs -- Interloc Mobile Informer.
Did you see the demo Mobile Informer on an Android Smart Phone, showing a working inventory management application?
If you've not been to a Maximo Utility Working Group meeting, I encourage you to check out the Fall event -- the presentations, the networking and the organization cannot be beat!
Looking forward to seeing you'all in Phoenix!